Staying Healthy Over the Holidays
10:06:00 PM
So how do you stay healthy and fit over the Holiday season when you are constantly surrounded by sweets and goodies and the weather doesn't motivate you to get outside and workout? Well it is really quite simple. Instead of the traditional feasting, try just taking smaller portions of your favorite holiday dishes and filling the rest of your plate with the healthy, good stuff, like green beans or salad, versus the mashed potatoes or the stuffing. Really the most important thing is moderation. It is alright to indulge every once in a while, but it shouldn't be everyday just because it is the holidays. Come on now, you know that is no excuse!
What I do to keep me focused on Thanksgiving day is each year it has become a tradition to run the Turkey Trot 5K or 10K each year. After a nice run, (1) you don't feel as bad for eating that second piece of pie and (2) it just motivates you to eat better throughout the day. Each year that I have done the Turkey Trot I have found that I don't eat as much as when I don't. And most towns have some sort of event like this, and if yours doesn't, think about taking a morning stroll around the park with your family in the morning before you start cooking, or go outside and play in the yard while the turkey is in the oven. There are so many ways to stay active, it is just motivating yourself to do so that is the initial step.
The one thing that you can still can keep and should keep on your menu this Thanksgiving is the turkey. Turkey is a lean protein that is quite nutritious and is generally low in fat. But of course the skinless, white meat is the best part for you.
Instead of the normal sweet potato pie, try baked sweet potatoes; and if you want the sweetness, add a little butter and cinnamon to spice it up a bit!
The Center for Science in the Public Interest ranked the sweet potato number one in all vegetables. It is a good source of fiber, complex carbohydrates and protein.
Also don't forget to add veggies to your plate this Thanksgiving! I know it is hard to pass up the turkey, mashed potatoes, stuffing and corn bread, but don't forget to put some green beans and salad on your plate.
But since Thanksgiving is definitely a day of indulgence, what better way than a good old fashion apple pie? Or maybe you want to try something a little different? I think this year I am going to be making some pumpkin-gingerbread muffins on top of my traditional pumpkin pie :)
Pumpkin-gingerbread muffins: This recipe is actually for a pumpkin gingerbread loaf recipe, but you can use it and make it into muffins easily, just adjust the bake time to approximately 20 minutes...no sweat!
Ingredients:
Directions:
Pumpkin Pie:
Ingredients:
Directions: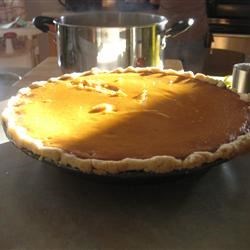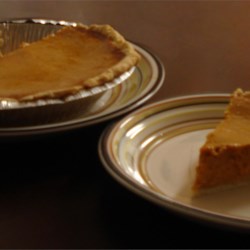 For any recipes you guys are searching for my favorite recipe site is
allrecipes.com
. I can always find simple, easy, and delicious recipes here, and most of the recipes here have nutrition facts attached :)
Well, hope everyone had a nice weekend and a nice rest of their Sunday night. I am heading back to St. Petersburg tomorrow evening after work for a nice little Thanksgiving get-a-way! I should be able to share lots of yummy treats with you all later in the week.