Pump up the Jams
9:06:00 PM
Things are slowly but surely moving along with the wedding planning.

The big ticket items still left on the checklist include:
Send Save the Dates
Hire a DJ
Find and reserve accommodation choices with group rate
Finalize floral arrangements with our florist
Create/order Invitations
Design & Decide on a cake
Pick out men's attire
Register for gifts
Decide on a theme & order groom's cake
Purchase favors
Select a veil
Finalize menu with the caterer
Purchase Morgan's wedding band
Practice hair and make-up
Put together out-of-town guest packages
So as you can see, even though we have got a lot done, there is still plenty to keep me busy for the next 9 months. First on the list is sending the save the dates. And next week we have an appointment to meet with a DJ. Chuckin' along.
Speaking of DJs, so what do you really need to know when trying to decide on a DJ? What questions should you ask during a consultation?
Be picky and Get Referrals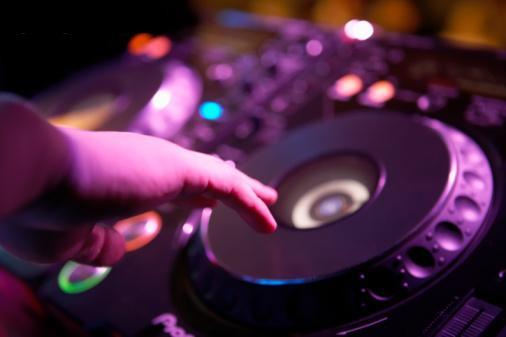 I guess the first step that goes into finding a DJ is first finding prospective DJs and having consultations with each of them. Make sure that you ask around to friends and family for references, as well as receive testimonials from past clients of the DJs in question. Don't rush to pick your DJ and be sure to ask to see videos from their previous weddings so you can view a few minutes of their work.
Experience, Schedule, Wardrobe
Next you want to make sure that the DJ is familiar with your wedding reception venue, if not have previous experience working events there. This will let you know that they are familiar with the rules and regulations of the venue as well as with the staff. Of course this doesn't mean that you don't hire a DJ because they haven't been to your venue before, but it is definitely a plus.
Once you decide on your DJ, make sure to sit down and discuss exactly what you want and to finalize a time schedule in which you want everything to happen. For example, the father-daughter dance, bouquet toss, garter toss, toasts, etc. You just want to make sure that you schedule everything in so when it comes time to enjoy the party you have no stress of when this or that is going to happen, because it will already have been discussed. Also, make sure that you discuss wardrobe with your DJ. If you are having a formal affair, be sure that they know to dress to impress in a tuxedo if your DJ is a male or a nice dress if your DJ is a female. You don't want you DJ to look out of place.
Signing a contract, it's all in the details
Last, as you get to the point of signing a contract with your DJ, be sure that you put everything in writing. You want to make sure that you get exactly what you are paying for. Make sure the name of the DJ is in the contract to avoid any bait and switch tricks at the last minute. Also, if you plan on renting any additional lighting through your DJ, put that in the contract as well. Remember that contracts are all in the details, be sure that you include everything and anything in your contract so there are nothing hits you by surprise.
Possible questions to ask during consultations:
Will we need to feed you at the wedding?
Do you have a request form for you to fill out?
Do you do corporate functions also?
What problems have you encountered during previous weddings? And how did you solve them?
Are you insured or belong to any professional organizations like A.D.J.A.?
NOW LET'S PUMP UP THE JAMS PARTY PEOPLE!