Morgan's Wedding Bands...
9:39:00 AM
As the wedding day gets nearer and nearer I am really struggling for what ring to get Morgan. I know a lot of you out there will have the help of your significant other in choosing their wedding band, but Morgan has said he wants it to be a surprise and that whatever I get he will love...of course. He bought my ring in a set, so he already has the perfect band for me...so now I have to come up with something that will compliment my ring without going over the top, he doesn't like a whole lot of bling, or spending too much money.


My ring is white gold set with diamonds and sapphires (my birth stone). I would really like to get him something that might compliment my ring...I do however know for sure that his ring needs to be tungsten. Tungsten is a harder than titanium, precious metal that supposedly does not scratch. Because he does a lot of work with his hands, I definitely want his ring to be tungsten so it doesn't get ruined. I have scratches on my ring already just from every day wear and tear.
Here are some of the mens bands that have caught my eye: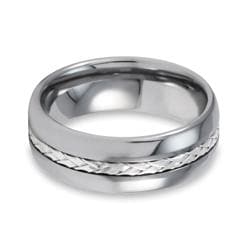 Option no. 1: A tungsten carbide band with a rope inlay 7mm - $53.99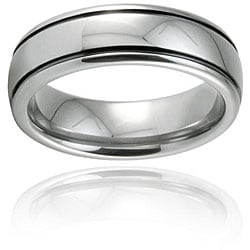 Option no. 2: Black plated Tungsten band 7mm - $49.49
Option no.3: Tungsten carbide flat polished band 6mm - $41.99
Option no. 4: Tungsten band with 1/6 TDW diamond 7mm - $149.99
Option no. 5: One diamond bezel Tungsten wedding band 7mm - $89.00
You see my confusion...do I get him something unique, or something simple and classic? I am leaning more on the simple side...just because that is more him, but it is his wedding band and should be some-what special. Any suggestions out there?